Football, backwards hats, bald eagles, and rock 'n roll. The list of "American things" is seemingly endless, but perhaps the most widely adored food item from the good 'ol USA (aside from apple pie and barbecue, of course) is donuts.
Honestly, have you met anyone who doesn't like the sugary, flaky, melt-in-your-mouth texture of a hot glazed, raspberry jelly, or Boston cream? We're betting you haven't, which is why we are going all out to celebrate the national favorite with these easy, fry-free varieties.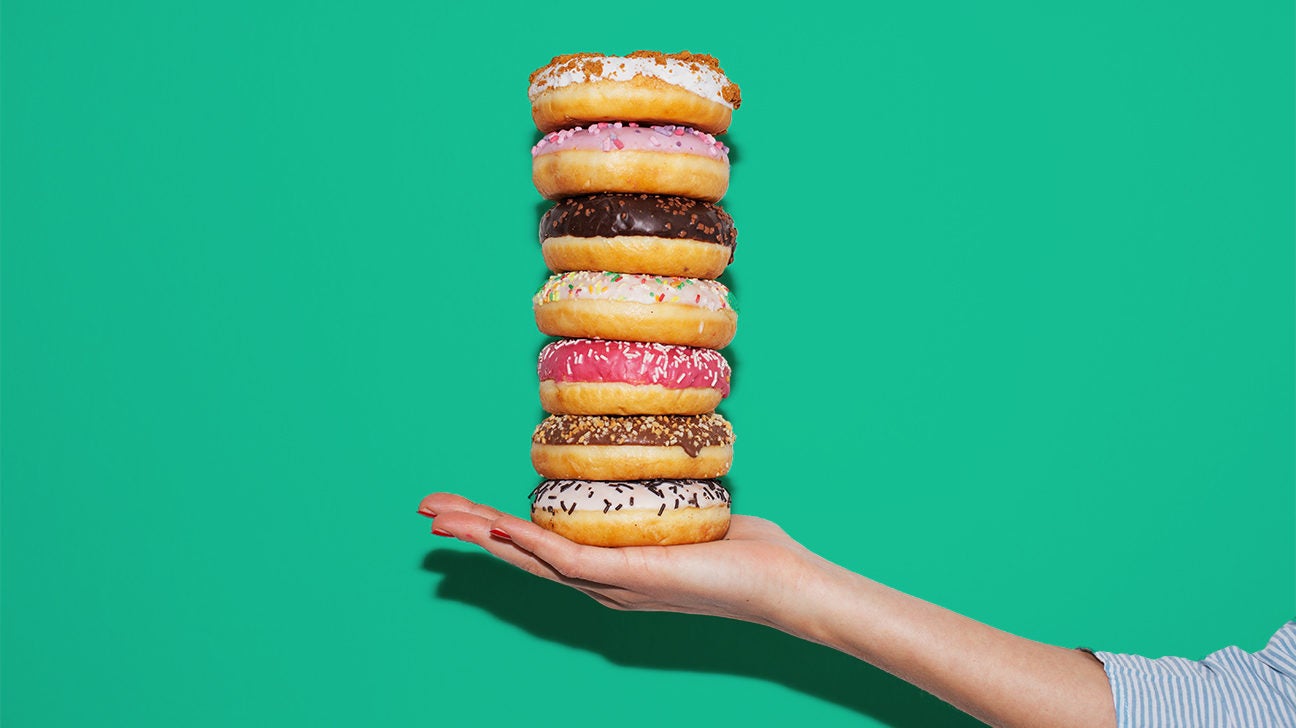 Whether you fear the fryer or are hoping to avoid oil for health reasons, check out the baked recipes below. Then prepare your taste buds for the familiar flavors you love so much. Homer Simpson would certainly approve.
9 baked donut recipes to rock your world
Who says buttery perfection needs to be complicated? These four-ingredient donuts prove that, sometimes, simple is best. This recipe makes an easy basic donut for beginners — but feel free to take it up a notch with chocolate frosting, sprinkles, or a caramel glaze.
Get the 4-ingredient baked donuts recipe.
Aside from the icing, nothing about these glazed cake donuts is "vanilla" in the metaphorical sense. Use a high-quality vanilla extract for depths of flavor way beyond boring.
Get the vanilla glazed baked donuts recipe.
If you thought making French crullers in an oven was a an impossible task, think again. This recipe breaks things down for even the most amateur of newbs.
Get the French cruller recipe.
We hope you like strawberries, 'cuz these baked beauties double up on the summer fruit. The topping even uses real, fresh strawberries! These are as beautiful as they are delicious… which means they're pretty freakin' delicious.
Get the recipe for strawberry baked donuts with strawberry glaze.
We're on a fruity roll! These bursting-with-blueberry donuts are surprisingly healthy, featuring whole wheat pastry flour and up to 1 cup of whole blueberries, for a total of just 117 calories per treat. (Yes, please!) Leave off the glaze if you're looking to scale back calories or carbs even further.
Get the recipe for baked donuts with blueberries.
Lemons and poppy seeds are two things that are meant to go together — just like this donut and your stomach. Be sure to make an extra batch for work. Your boss should promote you right on the spot.
Get the lemon poppy seed baked donut recipe.
Banana bread is already amazing on its own, but a mashup of the favorite quick bread with donuts, plus a browned butter caramel glaze? Sign us up. (And why did we never think of this combo before?)
Get the recipe for banana bread donuts with browned butter caramel glaze.
One look at these chocolate cake donuts and you'll be sold. They've got that quintessentially crumbly, cake-like exterior, generously drizzled with a layer of vanilla glaze you could practically ice skate on. In fact, they're basically Oreos in donut form, which means bye… nice chatting with you… we're off to go make donuts.
Get the chocolate cake baked donut recipe.
Donuts are one of the saddest things to have to give up if you've gone gluten-free. Fortunately, there's a workaround for GF folks: these fluffy vanilla cake donuts, which use use gluten-free flour. This blogger also offers several helpful substitutions if you need to keep other allergens (like dairy or eggs) out of your donuts.
Get the recipe for gluten-free vanilla cake donuts.
Bottom line
Taking oil out of the donut-making equation not only trims fat and calories, it can make for a significantly less messy prep. (Hot, splattered oil doesn't tend to be anyone's favorite part of frying.)
Besides, once you've slathered your confection in a sweet, finger-licking glaze, will you even miss the oil? We think not — but try these baked recipes to find out for yourself.