With upwards of 4,000 kinds of chili peppers in the world, it's hard to catch 'em all, but we delved in and picked a peck: 19 of our favorite peppers, from familiar jalapeño and serrano to more boutique Hungarian pimenton and guindilla verde.
Chili peppers are like people: It takes all kinds. Some are sweet, and others burn you. (You'll notice the absence of ghost peppers and Carolina reapers from our list, since they're more in the realm of "stunt peppers" than regular food ingredient, at least for most folks — that doesn't mean we don't love them too, if only from a distance.)
The more you get to know them, the better you can discern the differences in personality between peppers and choose the one to suit your mood.
Possibly originating from South America, chili peppers have been cultivated all over the world for centuries, leading to a wide variety of species with different colors, shapes, flavors, and, of course, spiciness. That said, most all of them fall into five families (Capsicum annuum, Capsicum baccatum, Capsicum chinense, Capsicum frutescens, and Capsicum pubescens).
We consulted pepper expert and grower David Winsberg from Northern California's Happy Quail Farms to put together a field guide to common peppers, as well as a few less common varieties becoming more widely available in the United States.
For reference, we've included average size and hotness scale (from 1-5). And, of course, plenty of pepper recipes so you can put your knowledge to good use.
1. Poblano pepper (aka ancho chile)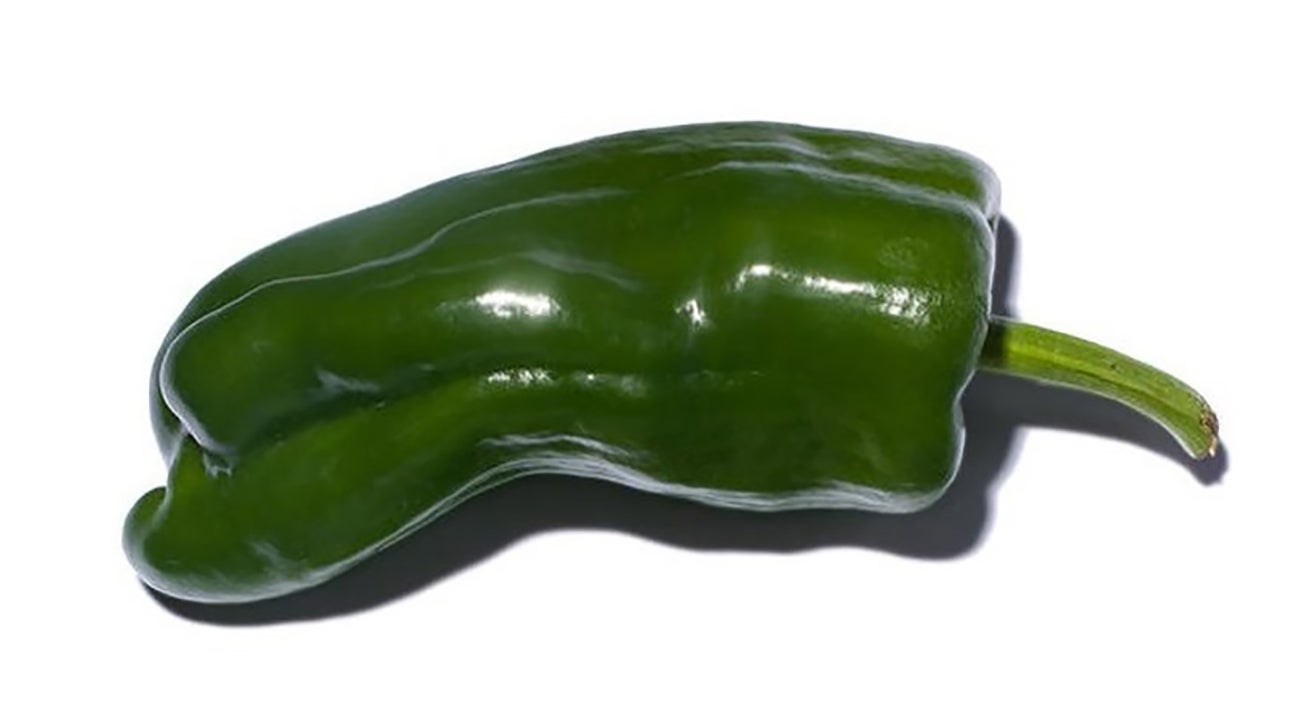 Average size: About 4-5 inches long
Spiciness scale: 2-3
This one's a good, easy-to-find grilling pepper that's ideal for stuffing to make chiles rellenos with a kick of heat.
Poblanos get fairly big and are usually sold fresh, while they are younger and dark green. At their red, mature stage they are usually dried (and in their dried form they're called ancho chiles). Their skin is easy to blister and peel. Winsberg says they have a good flavor, with enough heat to be zesty but not scorch anyone.
2. Guindilla verde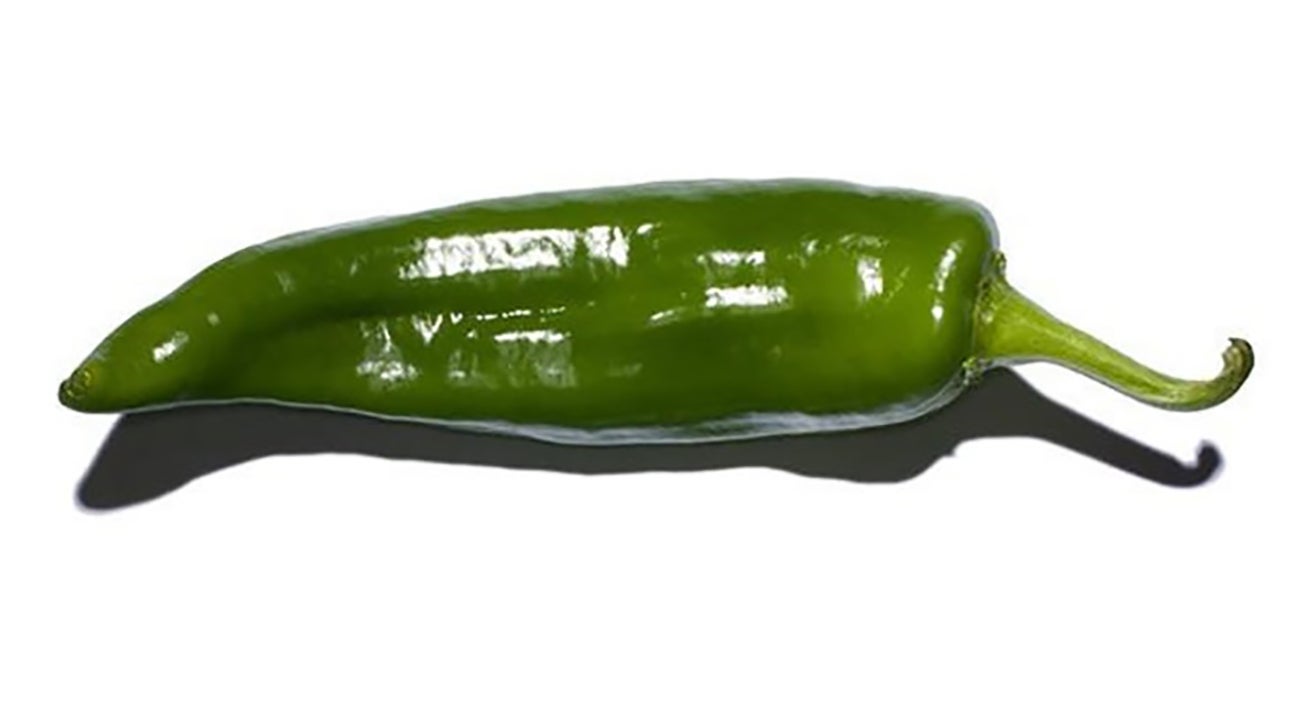 Average size: About 6 inches long
Spiciness scale: 1
From the Basque region of Spain, this is a tender pepper with a distinct sweetness. The variety shown is from the Bilbao region, and Winsberg says it's a good fryer served alongside meat like lamb or pork.
It shouldn't be confused with the more widely available jarred guindillas. Winsberg says guindilla is a name applied to several distinct regional varieties in Spain ranging from marble-size scorchers to these sweet large fryers, which he says are similar in flavor to a Hatch chile but without the heat.
3. Chilaca (aka pasilla chile)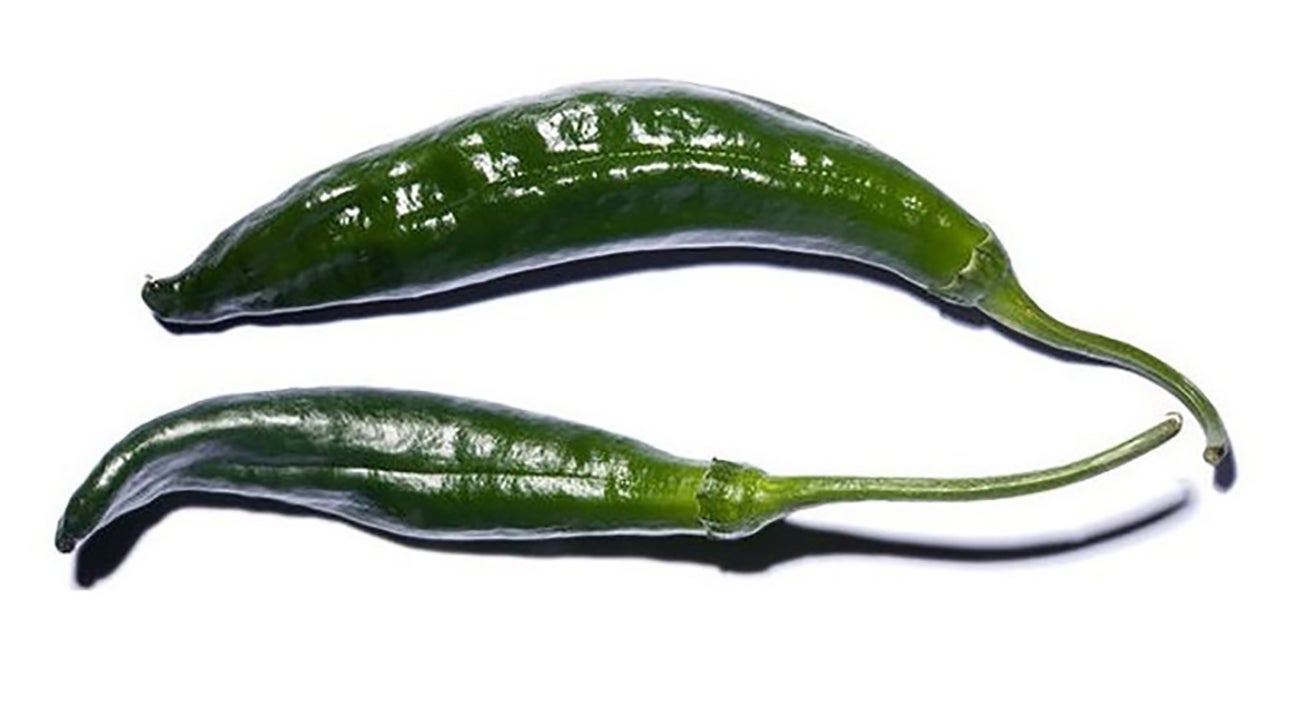 Average size: About 7-9 inches long
Spiciness scale: 2-3
This is a Mexican variety that matures from dark green to dark chocolate brown. It's a versatile pepper that's good for sauces, roasting, and grilling when fresh, says Winsberg.
Chilacas are medium hot but "not so much that they are scary." When dried, they are called pasillas and are common in mole recipes. Pasillas (also known as chiles negros) are available both whole and powdered.
4. Basque fryer (aka Piment d'Anglet, Doux Long des Landes)
Average size: About 6 inches long
Spiciness scale: 1
A French pepper used in many French Basque recipes. It is a twisty, long chili that, when green, has a "very distinct peppery taste with a very tender skin, and lend[s] a nice chile zest without adding heat," says Winsberg. When it turns red, it gets very sweet.
This one excels in sauces, chopped up and sautéed for a pipérade (a Basque mixed veggie dish), or fried with meats or sausage.
5. Anaheim chile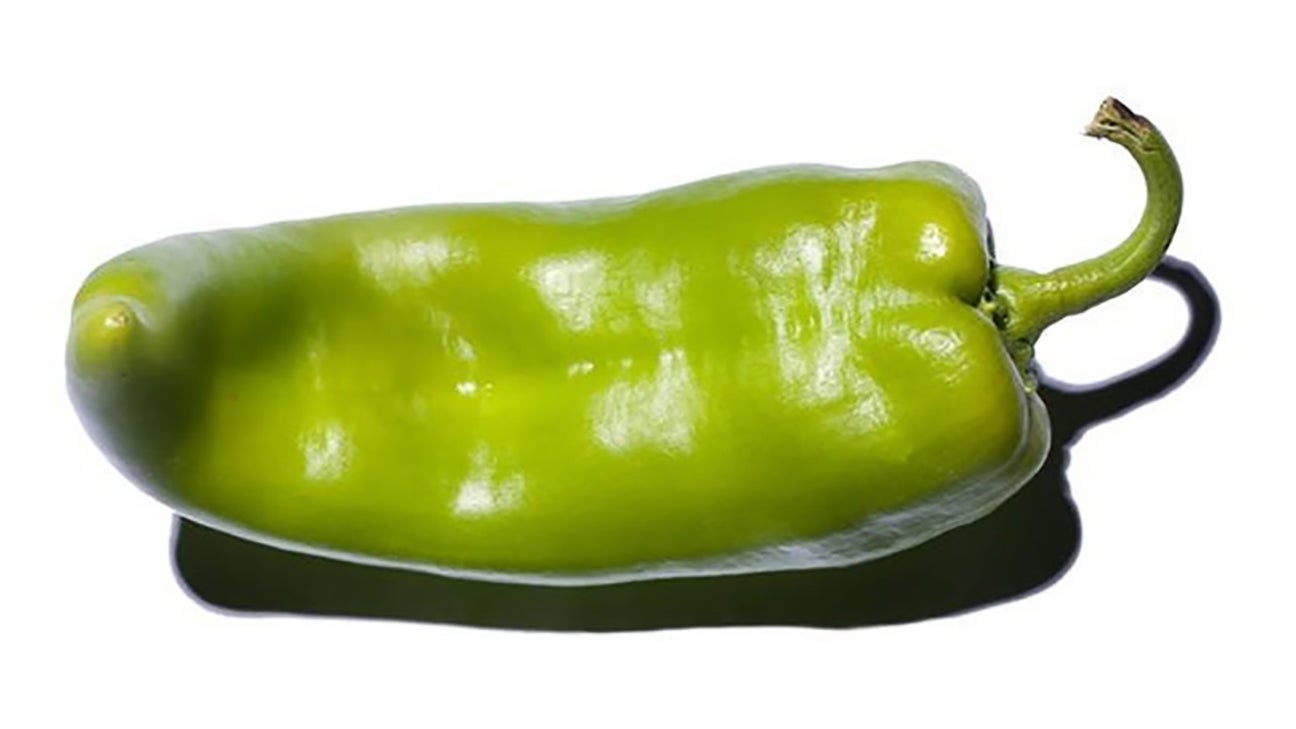 Average size: About 5-6 inches long
Spiciness scale: 1
Named after the city in Southern California, the Anaheim is a big, mild chili that's good for stuffing. Its skin is a little tough, but it peels pretty easily if you roast it first. Anaheims are good roasted, cut into strips, and thrown into a salad. Or try them stuffed with meat and grilled, used in salsa verde, or added to cheese enchiladas.
6. Cayenne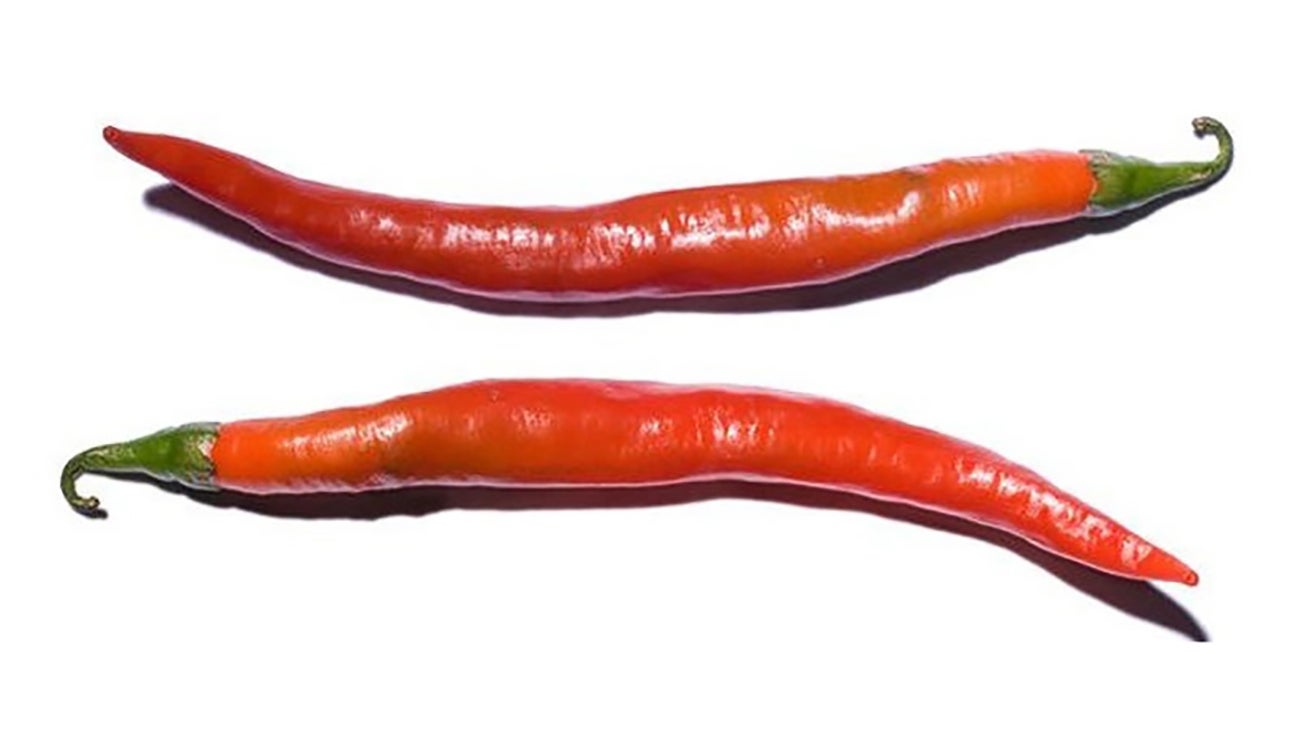 Average size: About 2-6 inches long
Spiciness scale: 4-5
This bright red pepper is usually consumed in its dried, powdered form, known as cayenne pepper. When ripe and fresh, cayenne chiles are long, skinny, and very hot. Winsberg says they are relatives of wild chiles from South and Central America.
7. Guernica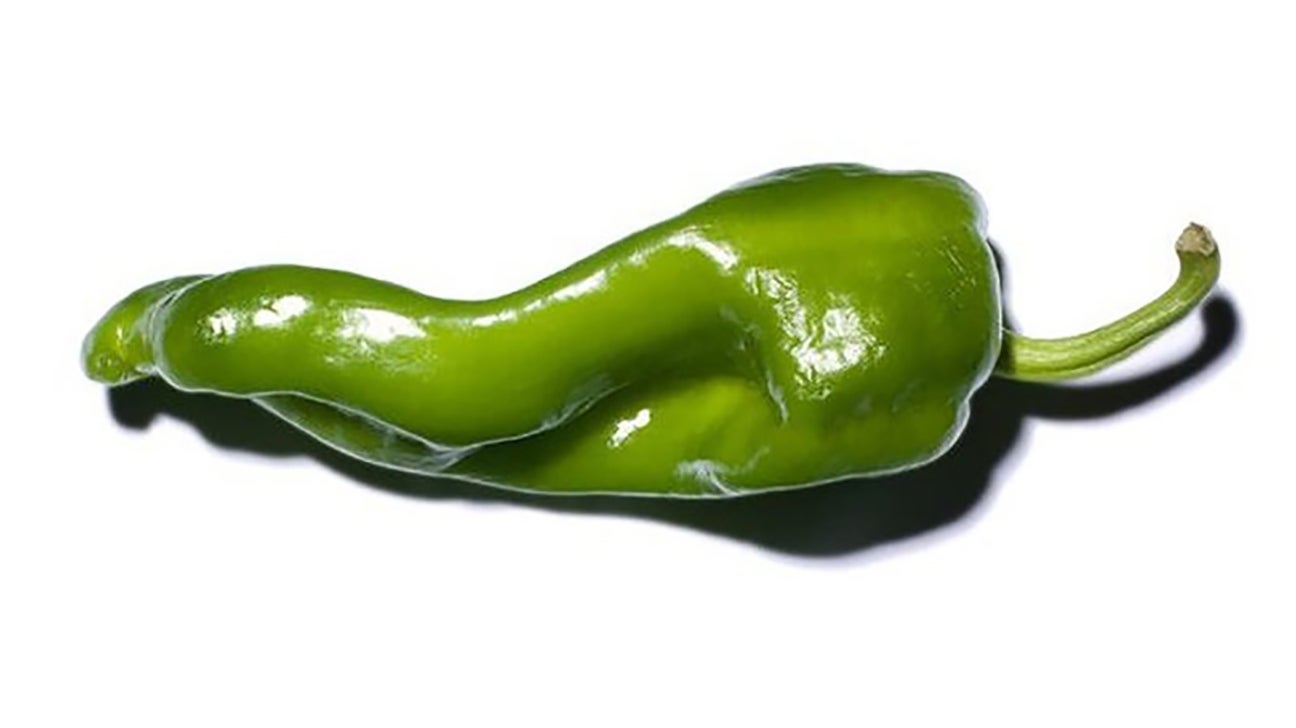 Average size: About 3-5 inches long
Spiciness scale: 1
The Guernica is a Spanish pepper similar to the Padrón in flavor (coming later on our list) but bigger and without any heat, says Winsberg. It's often served fried like the Padrón or stuffed with cheese or other fillings. It develops a tougher skin as it matures, and then is best roasted and peeled.
8. Hot banana pepper
Average size: About 6-7 inches long
Spiciness scale: 2
Happy Quail grows both sweet and hot varieties of the banana pepper, known as bácskai fehér in Hungary. Winsberg says they are often used in Hungarian lecsó (a dish of stewed peppers and eggs), pickled, or served grilled with meats.
9. Jalapeño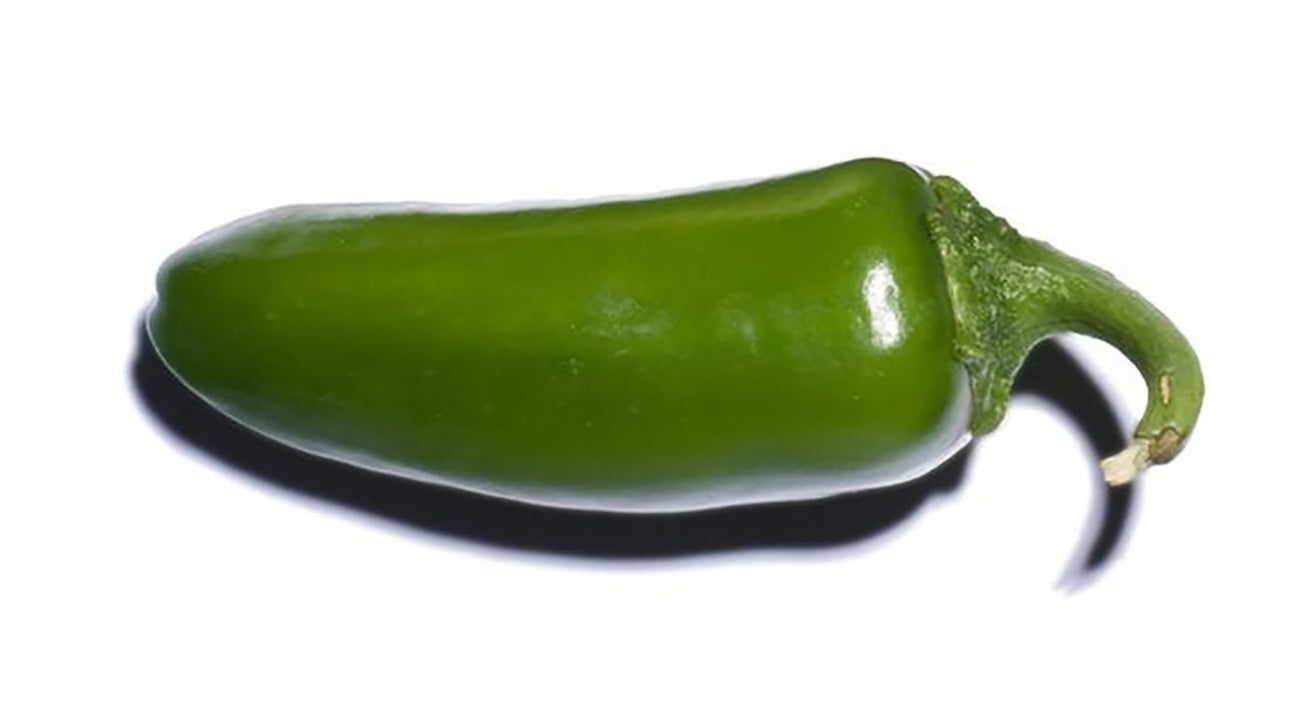 Average size: About 2-3 inches long
Spiciness scale: 2-3
Familiar stuffed with cream cheese and deep-fried as a bar snack, or chopped up in salsa, the jalapeño is probably the best-known pepper in the States. It gets its name from Jalapa (also spelled Xalapa), the capital of Veracruz, Mexico.
Harvested at both its green and red stages, the jalapeño is spicy but easy to seed and devein if you wish to remove some of the heat. When dried and smoked, it's called a chipotle chili.
10. Serrano pepper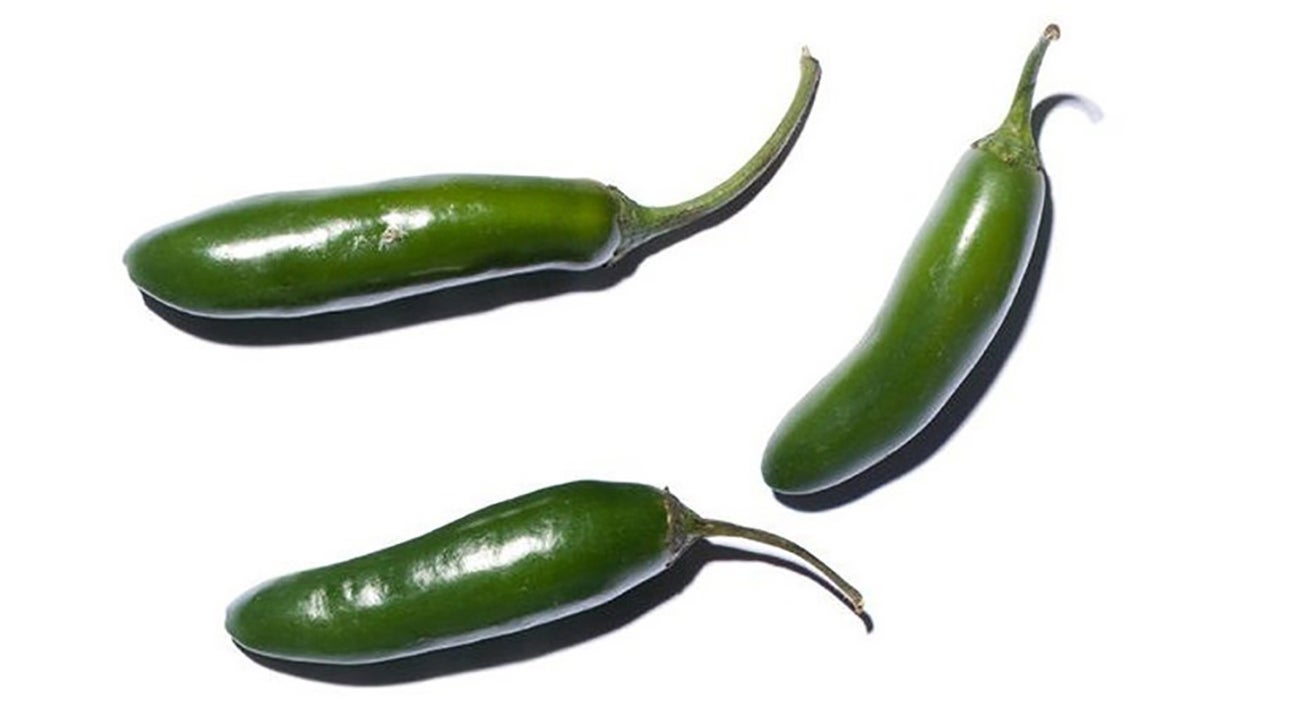 Average size: About 1.5-2.5 inches long
Spiciness scale: 3
Spicier than the jalapeño, the serrano is a small Mexican pepper with thick, juicy walls, so it's a great hot-salsa pepper, and is widely available and versatile. It's most commonly sold in its green stage (it turns red and then yellow as it gets older). You can also find serranos pickled or dried.
11. Habanero chili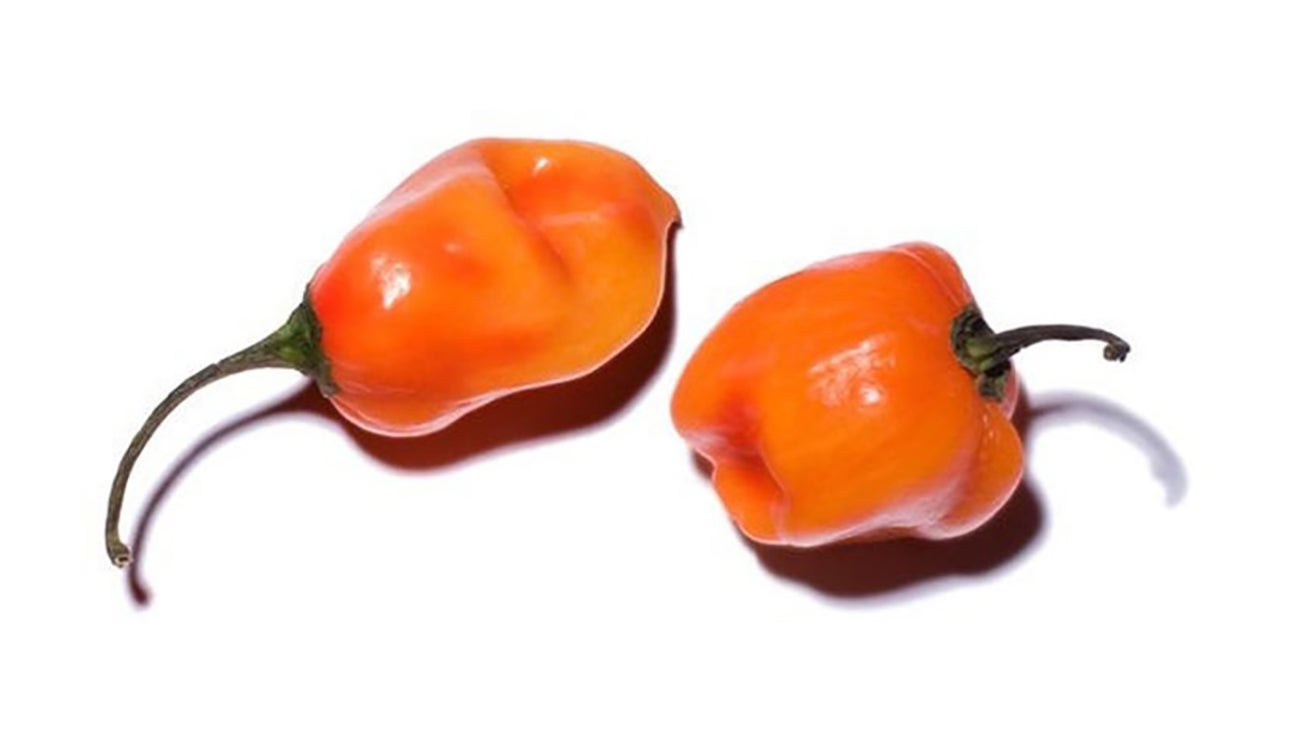 Average size: About 2 inches long
Spiciness scale: 5
Native to parts of Central America and the Caribbean, this little pepper packs a lot of heat.
But contrary to popular belief, the Red Savina habanero is not the hottest type of chili. That distinction now goes to the Indian bhut jolokia, or ghost chili (and Jamaican jerk mainstay Scotch bonnet peppers are almost twice as hot as habaneros).
Still, habaneros add a lot of fire to cooking and should be used judiciously. You'll find different colors, ranging from red to white-yellow and even brown, but orange is the most common. They're great for salsa, hot sauces, or a tongue-blazing jerk chicken (if you can't find those Scotch bonnet chilis).
12. Pimiento de Padrón (aka Padrón pepper)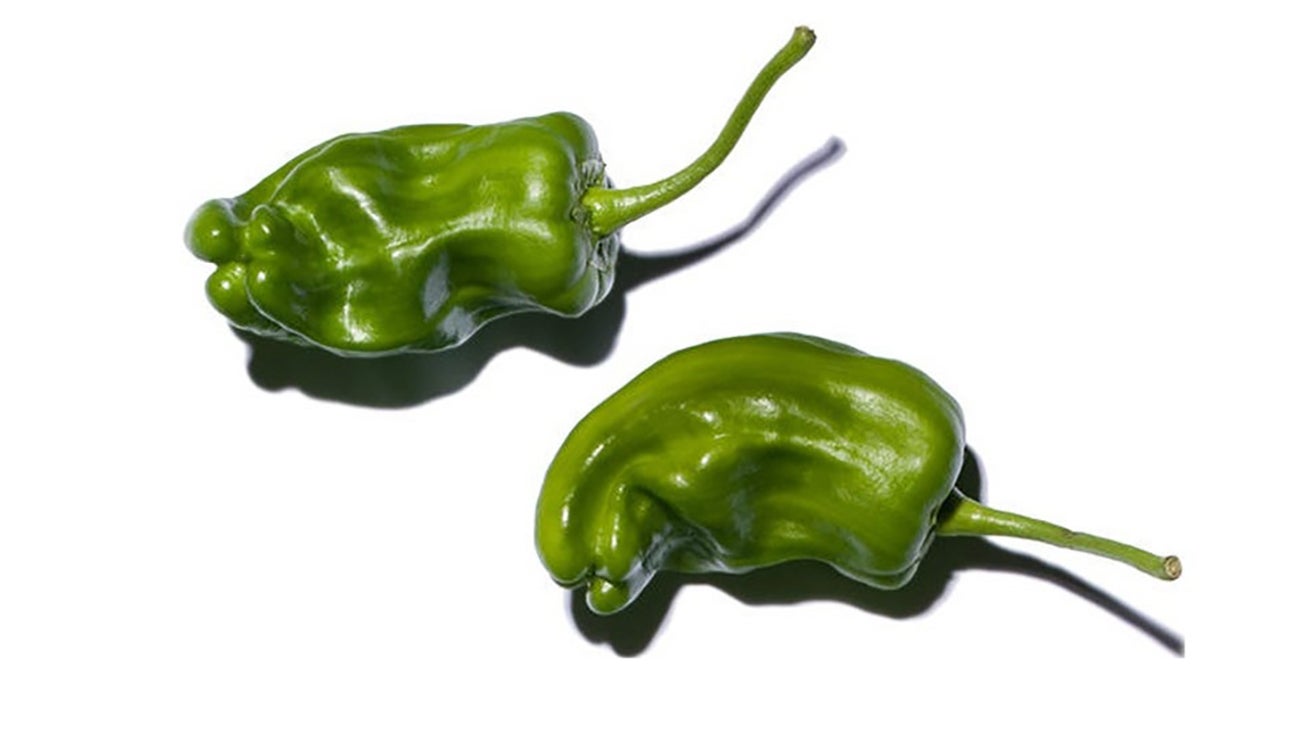 Average size: About 2-4 inches long
Spiciness scale: 1 (but the hot ones, even when young, can be 2-3)
This pepper is a specialty grown in Galicia in northern Spain. It is traditionally eaten as a simple tapa, fried in olive oil and tossed with salt.
Padróns are harvested young and small, with a tender skin and no mature seeds, so they're perfect for eating whole, bitten right off the stem.
They're generally mild with a nutty flavor at this stage, but get hotter as they matures. Part of the fun of eating these peppers is that about one in a dozen will be pretty hot, says Winsberg.
13. Aji rojo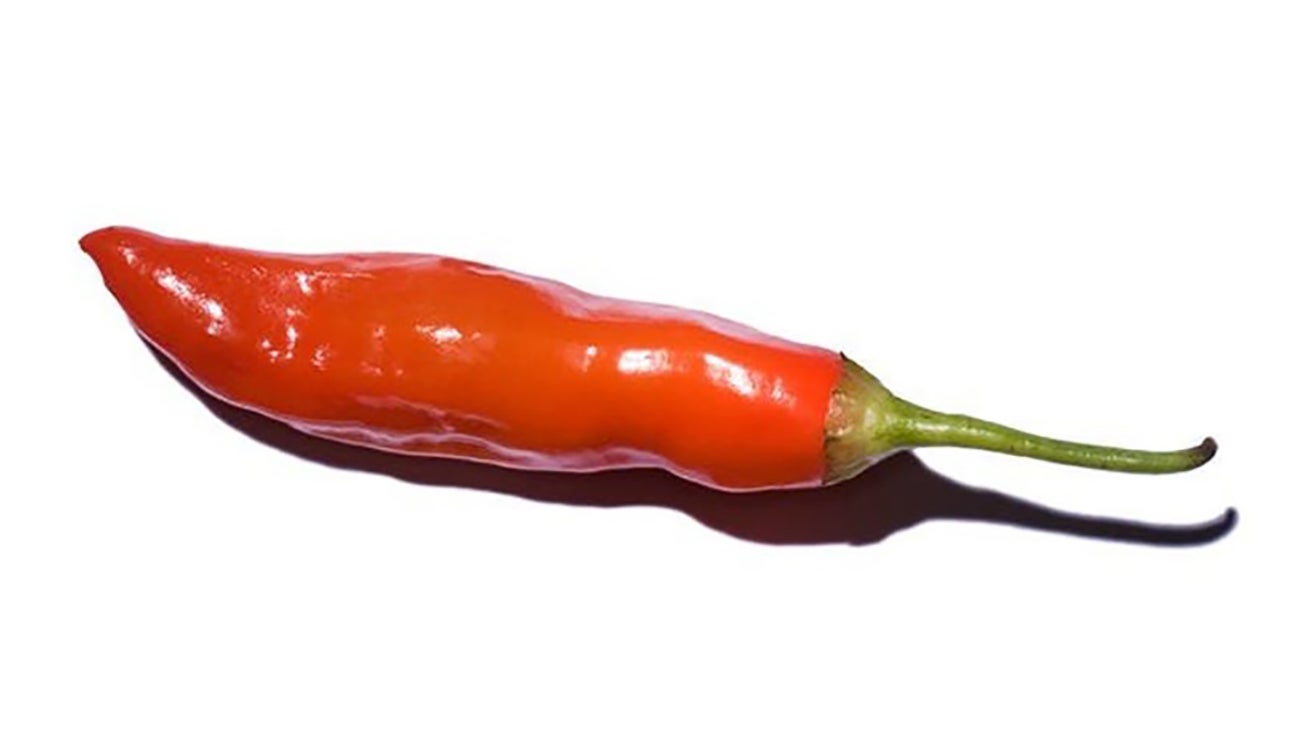 Average size: About 2-3 inches long
Spiciness scale: 4
Common in a lot of Peruvian cooking, the aji rojo is more of an orange-red than a true red pepper. It has a similar heat level to cayenne and can be chopped finely and added to ceviche or mixed with cheese or cream to make a sauce to serve over potatoes or chicken.
14. Thai chili (aka Thai bird's eye chili)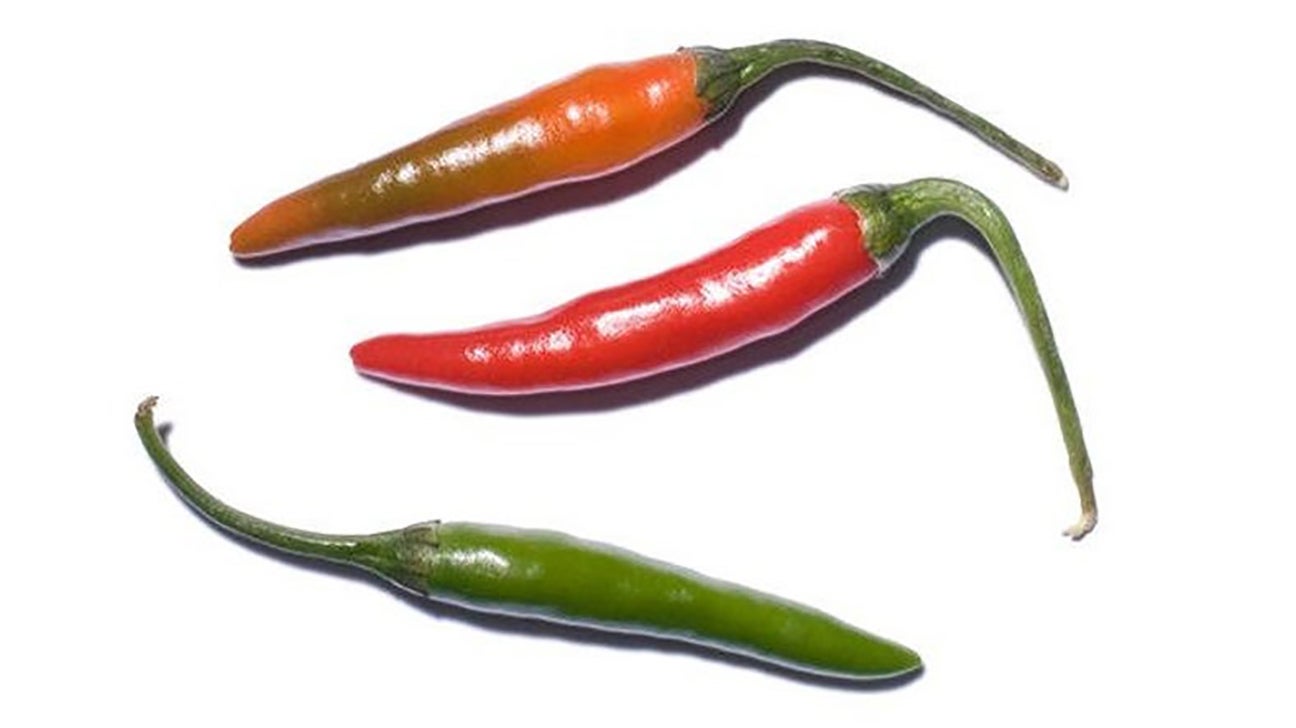 Average size: About 1-2 inches long
Spiciness scale: 5
This tiny chili adds serious amounts of heat to Southeast Asian cuisines. You may find either green or red Thai chilis — both are very spicy. Throw them whole into Thai soups like tom kha gai, purée them for curry pastes, or chop them up for any dish where you want to add heat without a lot of pieces of pepper.
15. Bell pepper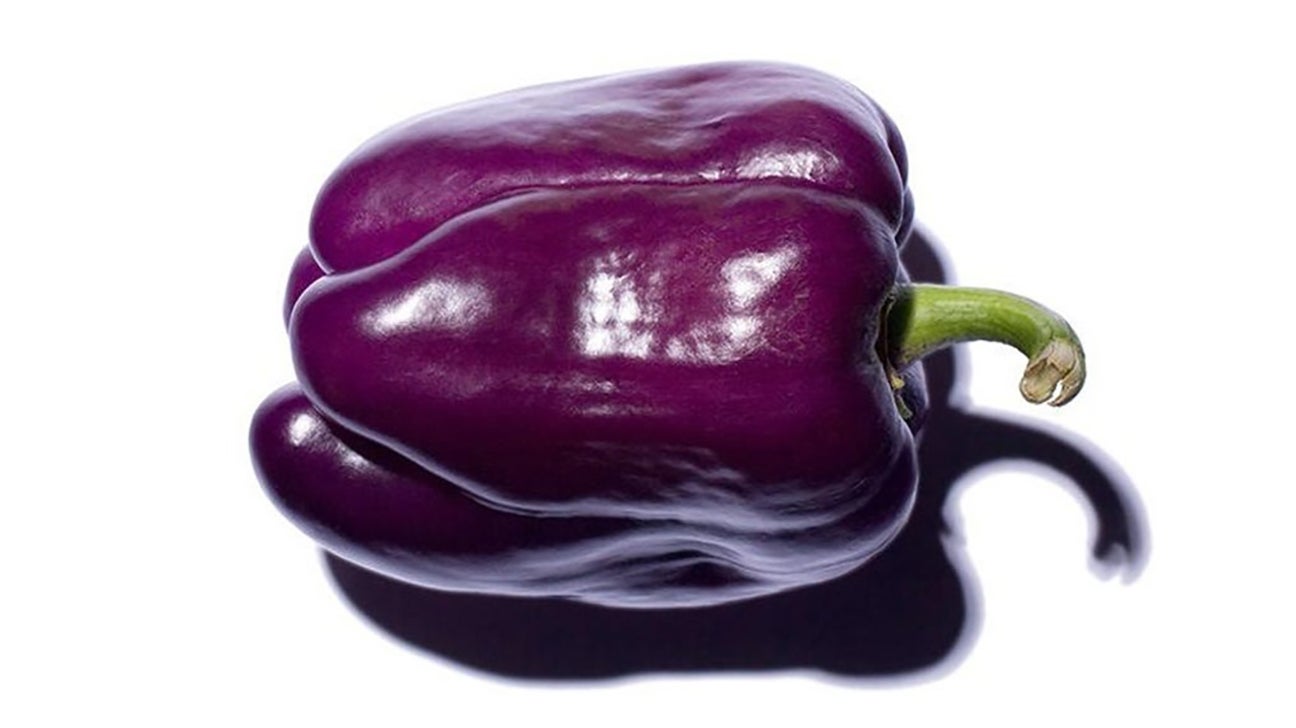 Average size: About 3-6 inches long
Spiciness scale: 1
The most common sweet pepper, bells are usually seen in red, green, and yellow, but there are also purple, brown, orange, and even striped orange-red varieties. They're a crunchy, juicy pepper that is great for eating raw on salads, sautéing, or roasting and chopping up to throw on a pizza or a sandwich.
16. Hot cherry pepper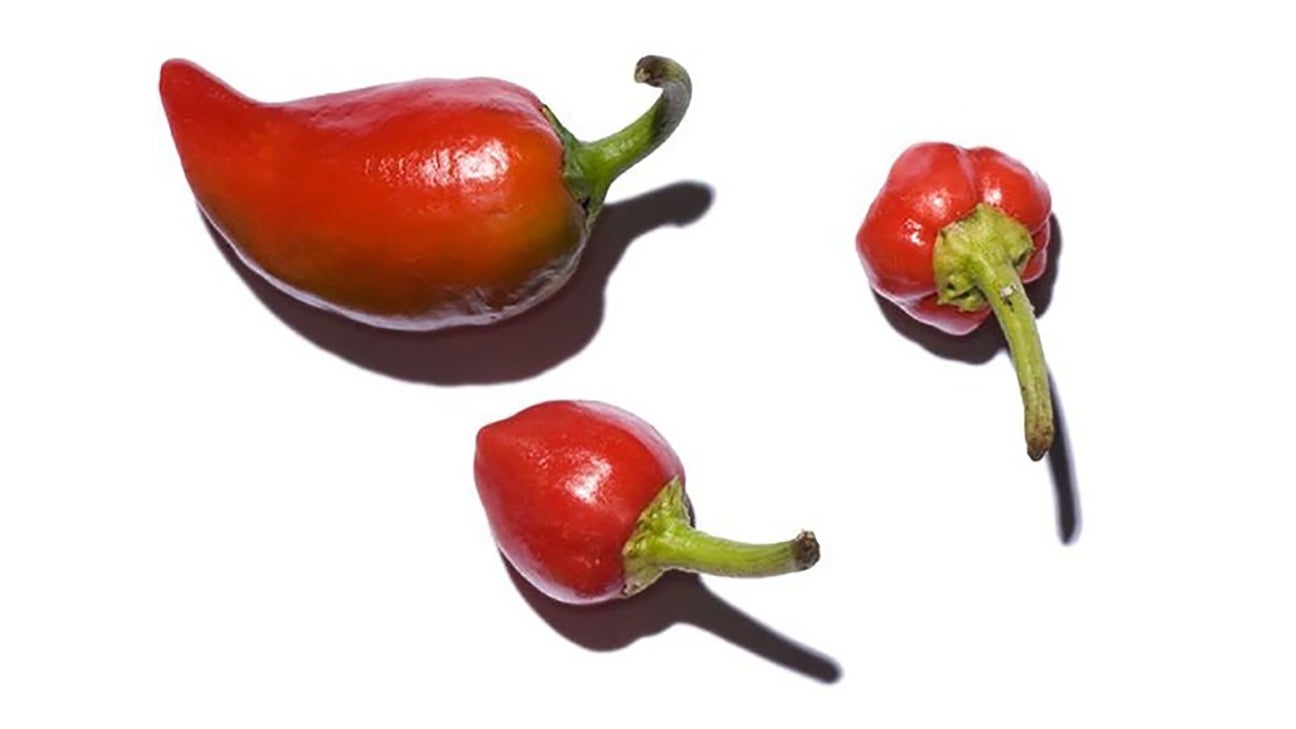 Average size: About 1-2 inches long
Spiciness scale: 4
These vary in size and shape and are very hot. They're usually round, though sometimes more of a triangular shape. Cherry peppers can also be sweet. They're most often used in pickling. Try throwing one in a jar with cucumber pickles to spice things up, or pickle them with other, milder peppers.
17. Hungarian pimento pepper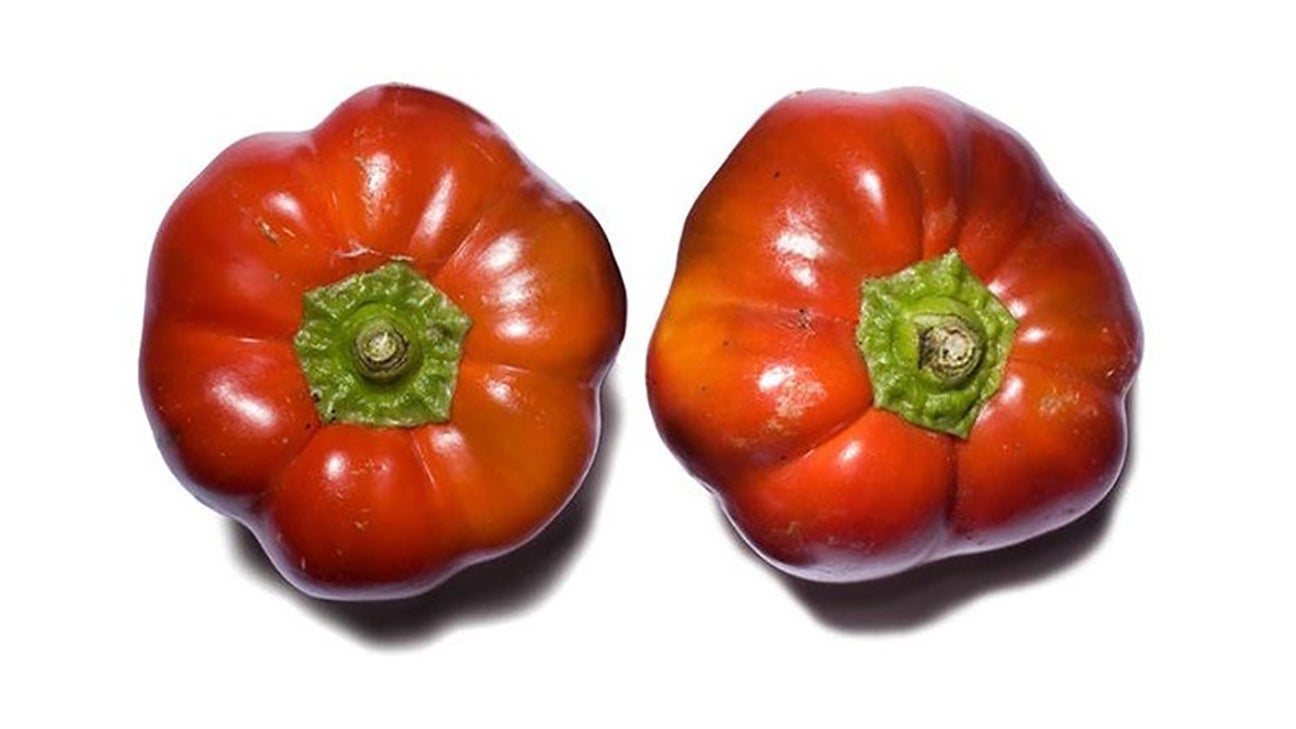 Average size: About 4-6 inches long
Spiciness scale: 1
This is a type of pimento (or pimiento) pepper — as in, the ones you often find stuffed in green olives. It's a large, sweet red pepper, similar to a bell but with an extra-thick, juicy wall. The skin comes off easily, so this is an ideal pepper for roasting.
They're also delish eaten raw with dip or stuffed in other creative packages like potatoes.
18. Piquillo pepper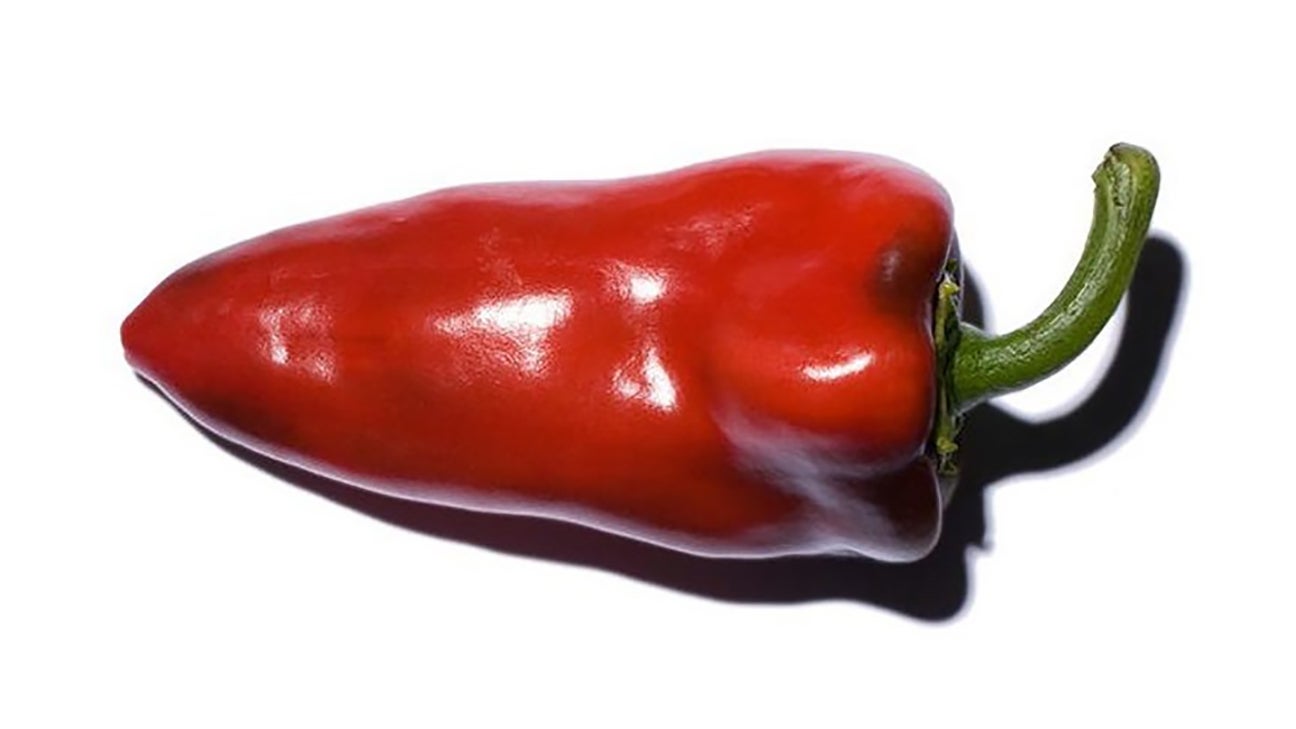 Average size: About 3 inches long
Spiciness scale: 1
The ultimate pepper for roasting, the Spanish piquillo has become very popular because of its intensely sweet flavor and bright red color.
It's usually only available canned or jarred, but is becoming easier to find fresh. It is often roasted, peeled, and stuffed with a variety of fillings like salt cod, tuna, or cheese.
19. Shishito pepper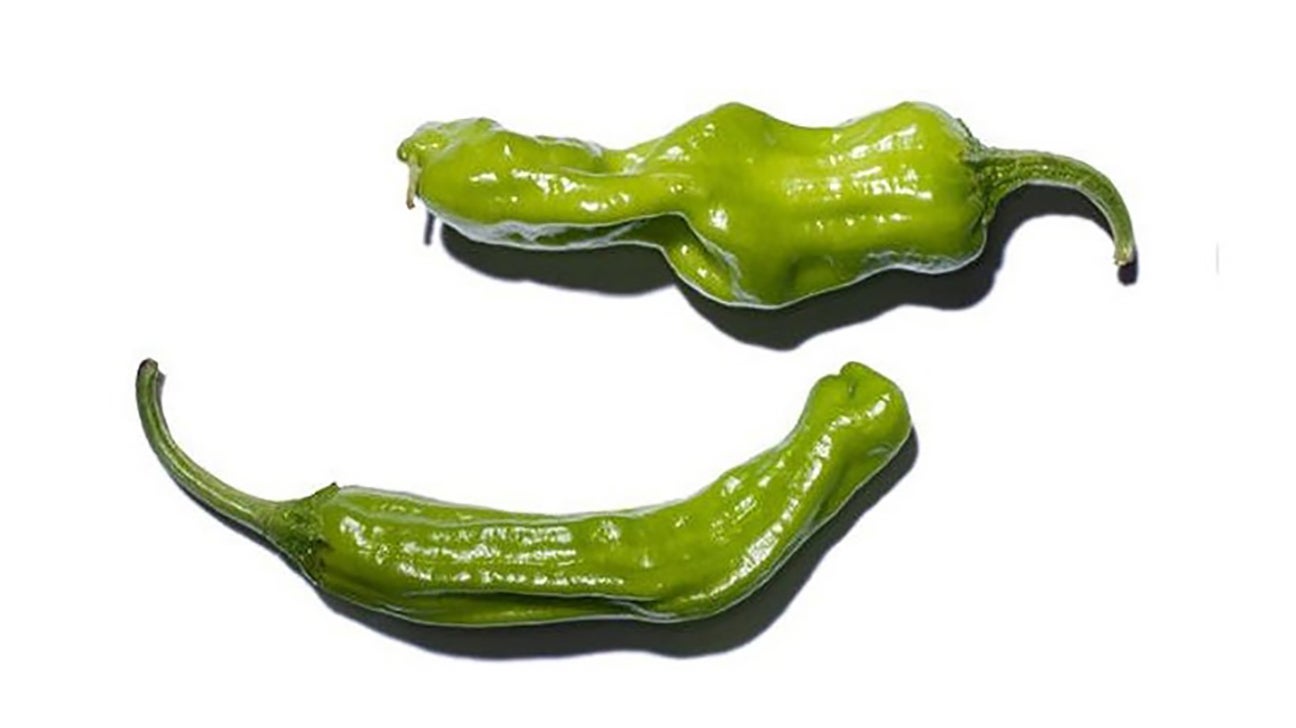 Average size: 2-4 inches long
Spiciness scale: 1-2 (with the occasional 2-3)
Popular in Japan, the shishito has thin walls, mild heat, and a little sweetness. It is good served like the Padrón — simply fried, roasted, or grilled, drizzled with some soy sauce and sesame oil, and eaten whole. It also makes super tasty tempura.
Pepper recipes
Now that you've got the deets on 19 different peppers, you're more equipped than ever to use them. Try these recipes as vehicles for sweet and spicy experimentation.
Dried ancho chilis are the secret flavor powerhouse in this recipe for chilaquiles. This traditional Mexican dish is typically made with fried corn tortillas and then topped with anything from spicy chili sauce to meat to eggs. If you ask us, it's a great excuse to eat nachos for breakfast.
This French sauté is full of bright bell peppers and French spices. It can be served over almost any meat, but we recommend braised chicken. (Julia Child preferred it over an omelet.) This recipe is perfect for the summer months when you have an abundance of vegetables and herbs lying around.
Meet your new favorite meatless meal. Here, red bell peppers are stuffed with protein-packed quinoa and salty feta. Add a simple side salad for an easy weeknight dinner.
Get our slow cooker quinoa-stuffed peppers recipe.
These small and slightly sweet peppers are generally mild, but one in every handful will be surprisingly spicy. They're usually deep-fried, but grilling is a healthy and quick preparation that adds a smoky layer of flavor.
Get our grilled Padrón peppers recipe.
Instead of placing the peppers directly under the broiler, we give them a little room by setting them in the middle of the oven. This extra distance allows them to roast a bit before their skins blister.
Get our easy roasted bell peppers recipe.
You've had stuffed bell peppers, but you've probably never had them quite like this. In this unique recipe, the sweetness of the bell peppers plays off the golden raisins in the filling, and the vegetal note is heightened by the herbs.
Get our stuffed bell peppers with feta and herbs recipe.
Serve these stuffed peppers them as a vegetarian main course or as a starter. They're loaded with rice, black beans, sour cream, cheese, tomatoes, and cilantro, then grilled until the peppers are charred and tender.
Get our stuffed poblanos with black beans and cheese recipe.
Broiling the peppers gives them a nice outer char and leaves the filling browned and bubbling. Meanwhile, the addition of herbs and garlic takes the creamy filling up a notch.
Get our herbed goat cheese jalapeño poppers recipe.
With Anaheim chiles, poblanos, and dried Aleppo peppers, this dish is always a big hit. It's great rolled into a burrito, but you can also serve it on its own topped with scallions, sour cream, and tortilla chips.
Get our chicken chile verde recipe.
Here, you can use a variety of small peppers for pickling, such as baby bells, Cubanelles, or banana peppers. They combine on a sandwich roll with chicken breasts dipped in buttermilk, then dredged in flour seasoned with paprika, black pepper, and ground mustard. Company-worthy, for sure!
Get our chicken-fried and pickled pepper sandwiches recipe.
Pasilla chiles (in their dried and ground form) mingle with chiles de arbol (a small, spicy Mexican pepper), tomatoes, vinegar, cilantro, scallions, and pumpkin seeds in this blended salsa modeled after the one served at Papalote Mexican Grill in San Francisco.
Get our Papalote salsa recipe.
This gooey dip features Anaheim chiles, poblano peppers, and serranos, along with onion, garlic, Roma tomatoes, and Mexican spices. Leave out the chicken and you'll have a hearty vegetarian dip packed with cheese and black beans.
Get our spicy chicken chile taco dip recipe.
As the name implies, this hot sauce is jam-packed with spicy serrano peppers, plus lime juice, garlic and onion powders, cider vinegar, and salt. It's a pure, potent complement to pulled pork, tacos, and much more. But use it within 2 weeks, or the freshness starts to fade.
Get our serrano hot sauce recipe.
Minced serrano or jalapeño peppers spice up a compound butter also spiked with tequila and lime juice. Perfect for patting on seared or grilled steaks or fish (or chicken, or corn, or… anything savory, really).
Get our chile lime tequila compound butter recipe.
A simple but flavorful sauce that lends both spice and creamy coolness to all sorts of grilled or roasted meats or veggies, this can also be used as an easy dip (try it with sweet potato chips). If you don't like cilantro, you can substitute another fresh, leafy green herb.
Get our jalapeño cilantro yogurt spread recipe.
With diced fresh jalapeño and canned chipotles in adobo, these tuna melts transcend the diner classic.
Get our spicy chipotle tuna melt recipe.
The Japanese cousin to Spanish Padrón peppers, these are equally great grilled and sprinkled with coarse salt, but we like to add a little togarashi (a Japanese spice mix usually containing red chili, dried orange zest, nori, sesame seeds, and ginger).