Everyone loves a summer barbecue. What's not to cherish about charred hot dogs, perfectly cooked medium-rare burgers, tender ribs, and seared portobello mushrooms fresh from the grill?
But fantastic coleslaw can be the tangy game-changer you didn't see coming. The right coleslaw recipe not only can counterbalance the heavier flavors of burgers and brats, it can also add nutrients you won't get from a plate full o'meat.
A bright and crispy slaw is an essential sidekick to any backyard barbecue feast. Here are 15 of our faves.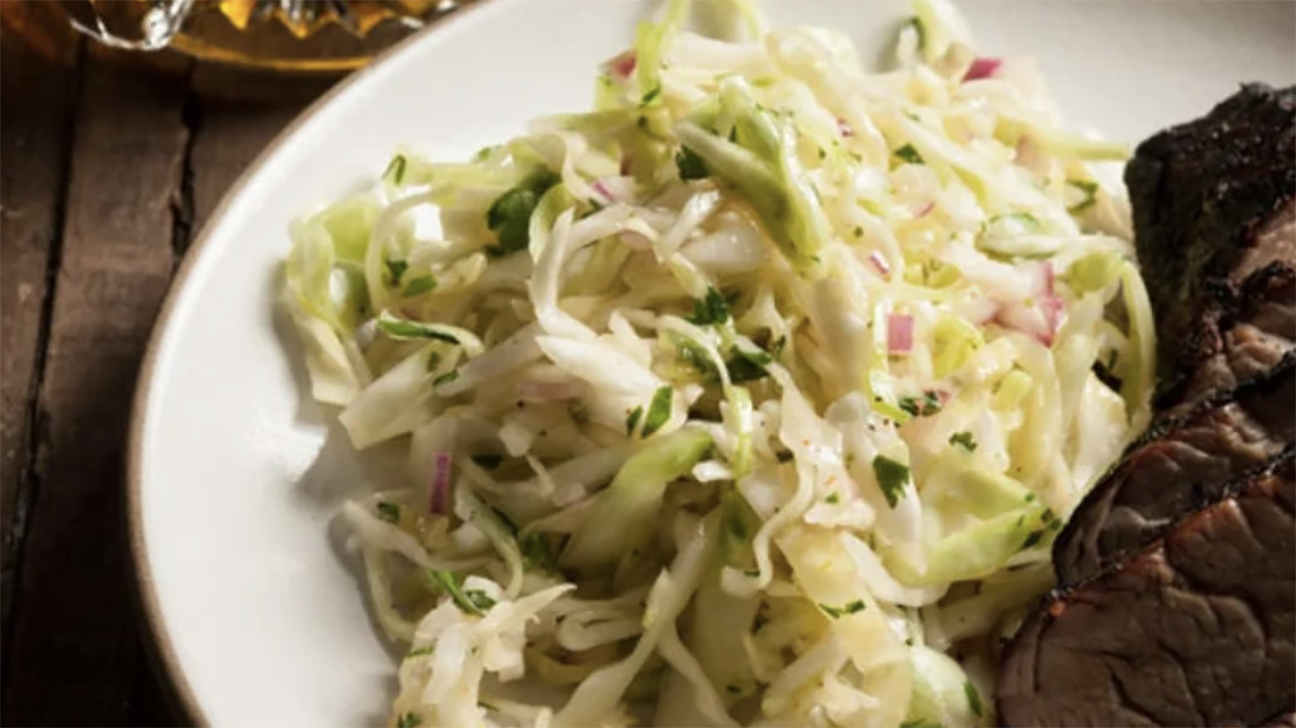 15 recipes that lay down the slaw
This recipe hits the mark for a fantastically spicy side dish that's packed with flavor but isn't overwhelming. With cumin, lime juice, and cilantro, this coleslaw makes a great pairing for any kind of taco or braised meat (and can work for keto barbecue guests, since it has no sugar).
Get our spicy lime & jalapeno coleslaw recipe.
This is some serious coleslaw: A full cup of crumbled blue cheese combined with some mayonnaise makes for a rich and creamy slaw that begs to be served with buffalo chicken tenders (or grilled chicken sliders). It's so good you can serve it on its own, but the blue cheese flavor is the perfect antidote to some super spicy hot sauce.
Get our blue cheese coleslaw recipe.
This is the coleslaw of your childhood, the one that came alongside fast food hot dog and hamburger orders in a little plastic cup. A classic not to be messed with, this recipe has the traditional mayonnaise-based dressed (and the option of adding quick-pickled jalapeños).
Get our classic coleslaw recipe.
Low-calorie, gluten-free, and packed with Mediterranean flav-ah? Check, check, and check. This lemony coleslaw is equally at home next to burgers or Med-style dishes like hummus and pita chips or spanakopita. Leave out the feta cheese to make it dairy-free (and vegan!).
Get the Mediterranean coleslaw recipe.
Speaking of vegan goodness, you won't find any dairy or egg ingredients here! Plant-based mayo is the secret weapon behind this extra-easy coleslaw. It's just right as is, but feel free to add raisins, diced apples, celery, or any other mix-ins for textural novelty.
Get the vegan coleslaw recipe.
Poppy seed dressing is what makes this kale-based coleslaw really stand out from the pack. A tangy-sweet combination of cider vinegar, honey, Dijon mustard, red onion, and poppy seeds are whisked together, then mixed with flat-leaf kale and tart green apples. Make sure to let the mixture sit overnight in the fridge to develop the flavors.
Get our kale apple coleslaw with poppy seed dressing recipe.
Brussels sprouts aren't just for snuggling beside your Thanksgiving turkey. When these autumn veggies are in season (but it's still stinkin' hot outside) don't heat up the oven! Instead, shred them into a gloriously no-cook Brussels sprout slaw. Here, pitted, sliced Medjool dates add sweetness that balances the raw sprouts' bitter hints.
Get the Brussels sprout slaw recipe.
This is an extremely simple recipe that depends on the texture of the grated carrots to keep it interesting. It's naturally sweet, crunchy, and has a delightful combination of zippy mustard and fresh herbs that makes for a light, French-inspired summer side.
Get our mustard carrot slaw recipe.
The multicolored vegetables in this slaw create a dish that is as bright and appealing as it is good for you. Pumpkin seeds are an unusual addition (but you can substitute any mix of seeds you have on hand). Meanwhile, a lemon-garlic dressing enriched with a little olive oil is a nice change from the usual vinegary flavor profile.
Get the healthy vegetable slaw recipe.
High in potassium, fiber, and healthy unsaturated fats, this peanut coleslaw has a heckuva lot of to offer in terms of nutrition. And allow us to warn you right now: You're gonna want to slather its creamy peanut sauce on anything that's not nailed down.
Get the peanut coleslaw recipe.
Make this easy recipe even simpler by using store-bought coleslaw mix. Nobody at the picnic will notice as they raise heaping forkfuls of the tasty stuff to their mouths, asking for the recipe between bites.
This slaw is packed with color and flavor: green and red cabbage, fresh green herbs (mint and basil), and juicy yellow-orange peaches, all in a miso-ginger dressing. Watch out for the hotness from the charred peppers and adjust to suit your taste.
Get the spicy ginger miso slaw recipe.
Need a slaw for your favorite fish tacos? We've got you. This tangy cabbage mixture is infused with Mexican-inspired spices like cumin, cilantro, and chili powder for the perfect foil to any neutral-tasting white fish. Taco Tuesday will never be the same.
Get our tangy cabbage slaw recipe.
This recipe screams summer — use fresh corn on the cob that you char on the grill and only the ripest summer tomatoes for the best results. Lime, garlic, tomatillos, and a cilantro mustard dressing make this coleslaw a nice change from the norm (not to mention exceptionally fresh).
Get our easy corn and tomato coleslaw recipe.
White vinegar, horseradish, pickles and 2 tablespoons of pickle brine add acidity to the mayonnaise-based dressing in this red cabbage coleslaw. This is a heavier slaw that pairs well with grilled meats and vegetables. Leave it in the refrigerator overnight to amp up the flavors.
Get our easy red coleslaw recipe.
The bottom line
Just about any shreddable veggie (and even some non-shreddable ones, like corn and tomatoes) can make its way into a satisfying summertime side dish. Choose your favorite flavors and colors, whisk up a light, tangy dressing, and you're good to slay the slaw.